Photonics Industries (PI), The Pioneer of Intracavity Solid-State Harmonic Lasers, recently shipped a large order (totaling over seven figures) of our TU Series of Diode Pumped Solid-State Tunable nanosecond (ns) pulse width Ti:Sapphire lasers to a major research institute doing Radioactive Ion Beam (RIB) research similar to the Resonance Ionization Laser Ion Source (RILIS) which is part of ISOLDE: CERN's radioactive beam facility.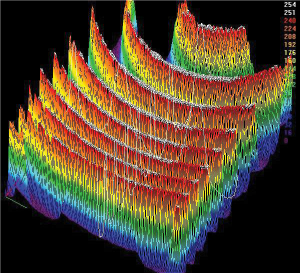 Narrow linewidth diffraction pattern measured from a Photonics Industries TU Series Diode Pumped Solid-State Tunable ns Ti: Sapphire Laser
Such solid state lasers are preferred over dye lasers for these applications due to the simpler maintenance and user friendliness of solid state lasers.
Photonics Industries' TU Series TEM00 mode, ns pulse width, tunable Ti:Sapphire laser with broad wavelength tuning range of ~700 to 900nm, high prf up to 10KHz and average power of > 1W makes the TU laser a valuable tool for RIB applications.
The advantages of the TU series laser stem from PI's patented grating based technology providing:
Simpler design:
Superior wavelength stability over Fabry-Pérot etalon based approaches

Superior wavelength stability that's better than 0.1cm-1 (typically <0.04 cm-1 over eight hours)

Wavelength and line width are not affected by changes in temperature, and pressure
No need to re-calibrate wavelength on a daily basis
Diode pumped solid state (DPSS) laser solution vs a Dye laser solution:

No dye cells, replacement of dyes nor the need to flush and replenish any dyes at any time
Much more stable wavelength
Narrow Bandwidth
Patented Technology allows for narrow line width down to 0.1cm-1
Extremely Narrow Line Width makes it preferred choice for time-resolving spectroscopy
Minimal Beam Divergence
Excellent long term stability of <2%rms
Available in High and Low Rep Rates:
Tu-L – Single shot to 4 kHz
Tu-H – 4kHz to 10 kHz
Variable repetition rate
Easy wavelength tuning through software control
Pump Source and TiSa Laser in Same Laser Head
Fully integrated and aligned pumped system for high stability and reliability
Field proven, reliable pumping DM series laser
Low Maintenance/Durable/Large installed base
User friendly operation
Fundamental and Harmonic output power from a Photonics Industries TU-H
Series Diode Pumped Solid-State Tunable ns Ti: Sapphire Laser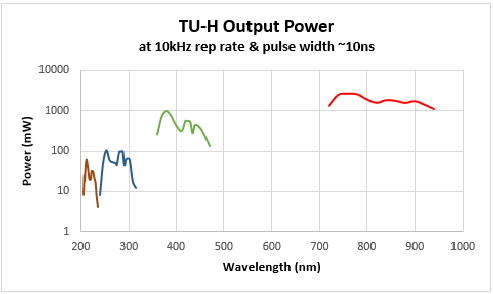 For more information on all our laser please contact:
Dr. Joyce Kilmer            or                   Matt Corrello