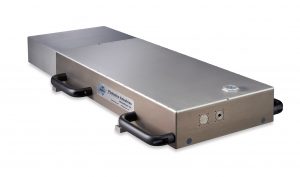 Photonics Industries RGH Series high pulse energy ps laser
(Ronkonkoma, NY Nov 29, 2016) Photonics Industries' (PI), the pioneer of intracavity solid-state harmonic lasers, RGH 1064 Series of high pulse energy Pico-second (i.e., 10ps to 15ps) lasers were used by ATTON Eng Corporation to achieve mirror like surface cut quality on thin glasses for glass flat panel displays and mobile devices.
While other ultrafast laser based glass cutting schemes can only yield surface roughness qualities of no better than ra ~100nm, ATTON has developed a new patented "mirroring patent" process with PI's RGH laser that creates Sidewall Roughness ~0.005㎛ (i.e., ra ~5nm) with "mirror like" quality on the resulting laser cut glass surfaces thus maintaining a superior strength after the laser cut.
In the following video link, we show a Photonics Industries RGH Series high pulse energy ps laser being used with ATTON's newly patented "mirroring patent" processing head cutting various glass types:
The RGH Series lasers are compact industrial grade picosecond (ps) lasers with Total Pulse Control (e.g., individually triggered pulses on demand) and Burst Mode operation at output powers up to 70W @ 1064nm. With an adjustable repetition rate from single shot to 8MHz, the user can change the operating PRF and change the operating power or pulse energy through PEC (Power or Pulse Energy Control) function on the fly to maximize process flexibility. The RGH Series are the only industrial picosecond lasers with these maximal flexibilities on the market.
The 70W RGH-1064-70 provides High Pulse Energies typically up to 700uJ (600 μJ @ 100kHz specified) from one of the smallest footprint, lightest weight industrial ps lasers commercially available. The all-in-one single box design sim­plifies installation by removing the need to manage a separate controller/power supply box and umbilical cable – not only yielding space savings, but also better reliability.
With many hundreds of RGH lasers currently deployed in factories all over the world, the RGH Series picosecond lasers have proven their robustness for even the most demanding industrial manufacturing environments for applications ranging from metal engraving/marking, LED dicing, thin film removal, small feature structuring, glass, sapphire and ceramics cutting, drilling, etc. to 3D Lidar.
or
or
 visit our website
For more information on ATTON's newly developed "mirroring patent" process please contact:
Brian Jeon
Telephone : +82 70 5101 9299