RGLX Series High Pulse Energy Picosecond Laser models now offer high pulse energies, in the picosecond regime, at both kHz high pulse repetition rates and millijoule-level pulse energies in an air-cooled, all-in-one (AIO) form factor.
• mJ pulse energies at kHz pulse repetition rate: Up to 4mJ pulse energy IR at 1kHz
• All-in-one (AIO), exceptionally small form factor laser; no external controller and no bulky power supply. Photo of small size and comparisons below.
• Excellent beam quality (M2<1.3)
• IR, GREEN, and UV wavelength outputs available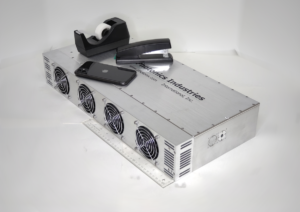 Such applications include:
• Cutting, drilling, welding, scribing, marking, micro-structuring, micro and meso-scale material processing, processing difficult materials
• Satellite Laser Ranging (SLR), Laser Ranging Systems, Laser Guide Star Adaptive Optical Systems, Observatory Systems
• Pump Probe Spectroscopy, TimeResolved Fluorescence Spectroscopy, Spectroscopy
• Pumping OPO Systems, Ti:Sapphire Systems, Ultrafast Amplifier Systems.
More information on the RGLX Series: Link