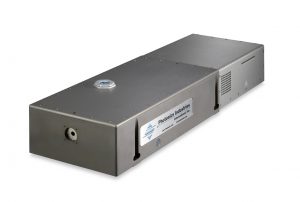 DSH-355-40 high pulse energy industrial TEM00 nanosecond 355nm UV laser
Photonics Industries (PI), The Pioneer of Intracavity Solid-State Harmonic Lasers, has increased the pulse energy to >1mJ of its DSH Series UV ns laser. The DSH-355-40 laser is a compact, nanosecond UV@355nm laser utilizing patented intracavity UV generation with Total Pulse Control (e.g., individually triggered pulses on demand) to achieve up to 50W of output power.
Increasing the power and pulse energy of UV lasers is in demand due to the desire to increase the speed in mobile device and flat panel display manufacturing applications. With the DSH-355-40 laser, industrial micromachining customers can process materials at a much quicker, more efficient rate, expediting their manufacturing processes with small amount of cost increase to yield 2x or more throughput for a large number of applications. Furthermore, the highest pulse energy >1mJ enables applications which were not possible in the past.
The new DSH-355-40 UV ns laser also typically provides <1% P-P stability with typical beam quality of M2<1.1 with the he lowest COO in the market. It's All-in-One (AIO) compact, Industry grade single box design is the smallest footprint with the lowest power consumption. The AIO single box design sim­plifies installation by removing the need to manage a separate controller/power supply box and umbilical cable — not only yielding space savings, but also better reliability. Eliminating the driver and umbilical, the new DSH-355-40 is so lightweight and robust it can be vertically mounted on gantry for robotic applications. Please see video:
For more information on the new DSH-355-40 laser please contact:
Dr. Joyce Kilmer
jkilmer@photonix.com
or
Matt Corrello
mcorrello@photonix.com